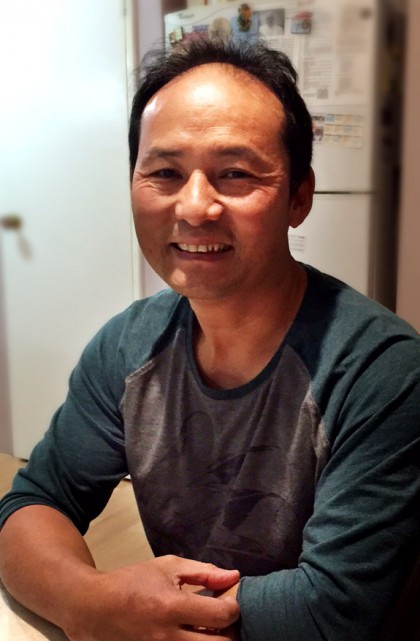 Alex – Pest Control Expert Extraordinnaire
Ellenbrook and Perth Pest Control
This expert can smell your problem!
🙂 Alex Di Sole is a licensed and qualified pest control management technician based in Ellenbrook, Perth. Since founding Di Sole Pest Control six years ago, he has accrued an ever-expanding base of loyal clients across the northern suburbs of Perth and Ellenbrook.
From the jungles of Myanmar . . .
His origins lie far away from pest control and lived deep in the jungles of Burma.
He was a young man when he left Burma like so many others before him to cross the Thai border. There, he learnt to speak Thai, adding to an increasingly impressive list of languages. English became his third language, but over the years, Alex has also learnt some Japanese, and forgotten a lot of French. Next seems to be Italian, an expressive language he loves so much that he named his company Di Sole after the Italian words for 'the Sun'. This phrase appealed to him so much he named his pest control business and his own house Di Sole.
With so many languages in his head, it's hardly a surprise Alex has retained something of an accent since arriving in Australia 20 years ago.
. . . to Pest Control in Perth and Ellenbrook
In Perth, Alex worked as a commercial cleaner in the evenings, eventually setting up his own business. During the day, he drove his children to and from school and cooked dinner. But his wife left her full-time job when she had another baby, and Alex needed to look for a day job.
What about weed spraying?
Alex decided to try weed spraying, a job in which his wife's uncle had found success. He began the training needed for certification in weed management and pest control. And that's where he was talent-spotted for his pest control abilities by instructors who realized he had a rare aptitude which no amount of classroom teaching could instill.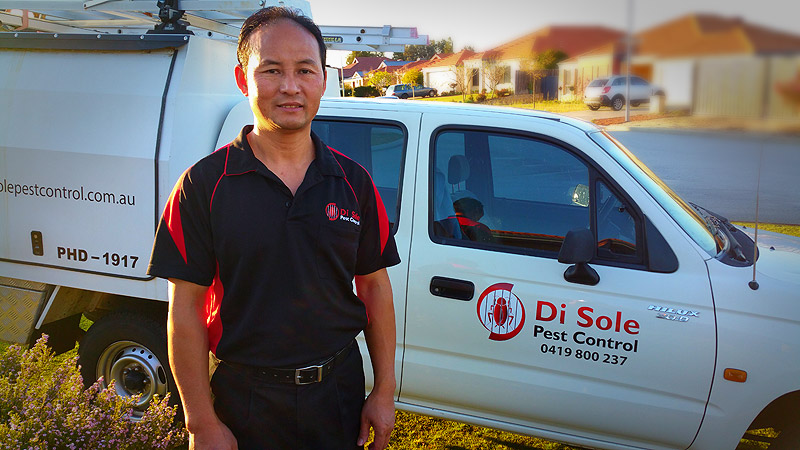 Eating pests in the jungles of Burma
In Alex's own words . . .
I originally went in for training for weed eradication. One day my instructor said, "We'll carry out the next pest inspection in a hotel room".
eating insects in the burmese jungleAs soon as I walked in – eight of us walk in to the room – I said "I can smell there are bed bugs." I could smell them. The course instructor said, "How can you smell the bed bugs?" And I said, "Someone has killed them recently, maybe five or ten minutes ago, that's why I can still get the smell," I said to him.
I grew up in the jungle. I'm from Burma, I'm not from the city, so, I grew up with pests all around me. I ate spiders, cockroaches – not the German ones – you know like the American or the Australian cockroaches, the black, thick ones . . . we ate those. In my village, where I grew up there were also bed bugs. We didn't know how to contain them. In the house, we'd find the bed bugs and if you kill them, they have a peculiar smell.
"That's why," I explained to him.
He said, "Alex, once you finish this course, don't become a weed-sprayer." I originally wanted to do weed management. "You'd be a great pest controller. Do pest control first. See if you like it."
And so he did.
Alex now loves working in pest control
After working for someone else as a Pest Control Technician for one year, he left to set up his own business. It was a good decision, one for which many of his clients have reason to be grateful.
Alex's lifelong experience in bug-killing, combined with a strong work ethic and attention to detail, leads to impressive results on the worksite. He literally uses his sense of smell to check that the pests are there in the first place.
Along with very competitive pricing, this innate ability has proved invaluable in overcoming the sometimes skeptical attitude of new clients.
When asked how long he has been doing the job, he merely answers . . .
Don't worry – when it comes to eradicating pests – I have life experience.